In today's digital age, companies heavily rely on technology vendors to deliver cutting-edge solutions and support their operations. Ensuring the performance and value delivery of these vendors is crucial to maintaining a competitive edge and providing exceptional customer experiences. One easy and powerful way to do this is through the application of Value Stream Management (VSM). This article explores how companies can leverage VSM to measure vendor performance and drive continuous improvement to reduce cost and waste.
Understanding Value Stream Management (VSM)
Value Stream Management is a holistic methodology that focuses on visualising, analysing, and improving end-to-end flow of value in software development and delivery processes. It provides banks with insights into how work is being done, identifies bottlenecks, and enables optimisation for maximum efficiency and value creation.
Defining the Value Stream
To measure the performance of technology vendors effectively, companies need to define and map the value stream associated with the vendor's services. The value stream represents the sequence of activities, tools, and resources involved in delivering value to the bank and its customers. By visualising and understanding this flow, companies can identify areas of improvement and measure vendor performance against specific value stream stages.
Establishing Key Performance Metrics
Once the value stream is defined, key performance metrics can be established which align with strategic objectives and customer expectations. These metrics may include lead time, cycle time, defect rates, delivery frequency, customer satisfaction, and adherence to regulatory requirements. The selected metrics provide meaningful insights into the efficiency, quality, and value delivery of the vendor's services.
Implementing Measurement Mechanisms
To measure vendor performance accurately, banks should implement robust measurement mechanisms throughout the value stream. This may involve capturing data from various sources, such as application performance monitoring tools, incident management systems, customer feedback channels, and project management platforms. By integrating these data sources, a comprehensive view of vendor performance can be gained along with key areas for improvement.
Continuous Monitoring and Feedback Loops
VSM relies on continuous monitoring and feedback loops to drive improvement. Regular checkpoints and review sessions should be established to assess vendor performance against the defined metrics. These sessions provide an opportunity to identify bottlenecks, address issues promptly, and collaborate with vendors on improvement initiatives. Real-time monitoring tools and automated reporting can enhance visibility and facilitate data-driven decision-making.
Collaborative Improvement Efforts
Measuring vendor performance using VSM goes beyond performance evaluations; it also promotes collaborative improvement efforts. Companies and vendors should work together to identify process inefficiencies, streamline workflows, and optimise value delivery. Through open communication, sharing best practices, and fostering a culture of continuous improvement, all parties can benefit from positive change and enhanced performance.
Vendor Scorecards and Performance Reviews
VSM offers an easy way to implement vendor scorecards and conduct periodic performance reviews to measure vendor performance. These scorecards provide a quantifiable assessment of vendor performance against predefined metrics and enable a structured evaluation process. Performance reviews offer an opportunity to discuss progress, address challenges, and align vendor services with the bank's evolving needs.
Combining Automation with a Human Touch
Defining value streams, establishing key performance metrics and implementing measurement mechanisms, can be time-consuming, complex and expensive for organisations. Using our VMS platform Neuro, Dragonfly has simplified this process by creating automated 'lenses' that provide targeted insights and intelligence at each stage of the delivery lifecycle. Our lenses are flexible and allow for an essential human touch to easily and accurately define value streams and their associated measurement frameworks.
No need for expensive consultants or in-depth vendor reviews – Neuro's turnkey capability quickly connects to engineering tool chains and provides detailed insight into vendor performance – aligning this to organisational and industry benchmarks.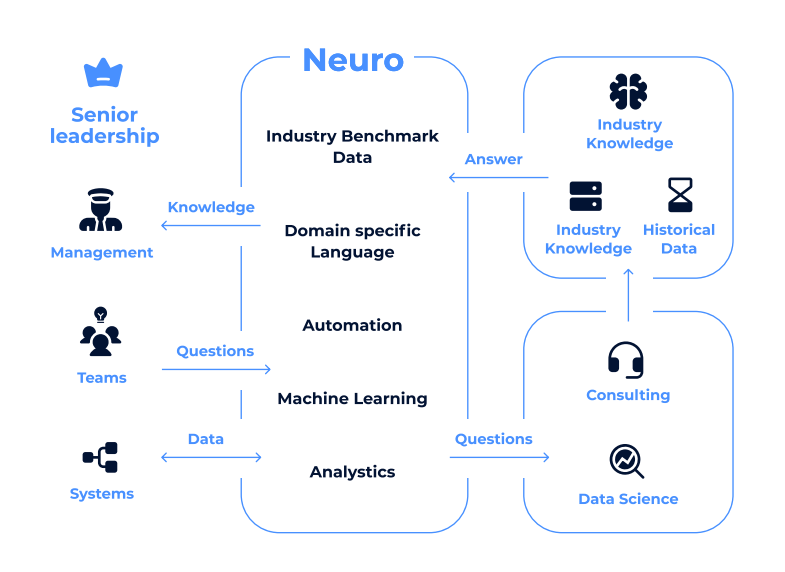 Furthermore, our data science and consulting teams work closely to continually train Neuro to identify and automate new insights to bridge any information gap. Neuro's deep personalised insights prevent information overload and enable users to consume a single view of the vendor technology supply chain – through their chosen lens such as quality – 24/7. Think of this as the ultimate command-and-control capability that harnesses disparate data sources to deliver value to CXOs, management and delivery teams on the frontline.
Align your vendors with your strategic objectives in a rapidly evolving digital banking landscape at a fraction of the cost.